Mind & Body Detoxification
We continuously consume artificial additives in our food. We breathe pollution. We are exposed to chemicals, pesticides and cigarette smoke.
Exposures to these toxins are not blatantly obvious to us and are hard to pinpoint as a cause for illness. Some toxins are naturally occurring chemicals that our body has had a hard time breaking down. When accumulated in our cells these toxins can cause mutation or death. These can be harmless in very small quantities but deadly in large amounts.
All of these toxins are getting in the way of our health. We use a variety of detoxification techniques.
One of our most-popular methods of detoxification is the footbath. The footbath was designed and developed to restore the body's energy while facilitating and aiding in its natural detoxification process. This device has been proven in clinical trials to balance and restore the body's Ph and electromagnetic energy.
How does it work?
The foot bath uses direct current similar to that of the human body to create an ionic field. The patient places their feet in the bioenergetic water to receive the flow of ions which increases cellular function. Studies have shown that more cellular ATP is produced during treatment which enhances the cells to work and detoxify at a higher rate.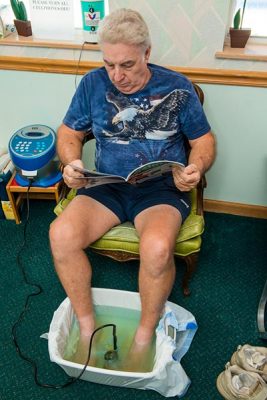 You may benefit from a footbath if you suffer from:
Also using Healing Lasers and frequency modulation we can use energy to help move the toxins out of the tissues and enhance the body's processes to flush them out of the system. Cold laser treatments can facilitate detoxification by increasing blood or lymph circulation.
Regular detoxification is also a good way to maintain a general feeling of wellbeing and overall health.

Cynthia G
Dr. Usry is caring and giving. He treats his patients like family. The staff is always very welcoming and accommodating. Dr. Usry's method addresses the root of the problem. If he cannot address it or he feels as if you need to seek other solutions, he will tell you. He will also work with other medical practitioners who may be treating you if the opportunity presents itself.

Arion A
I received excellent service from the staff and Dr. Usry. I'll will recommend this doctor to anybody.

Jennifer S
The facility is gorgeous and all of the staff including the doctor were very courteous and made me feel welcome!