Emotional Stress Management & Treatments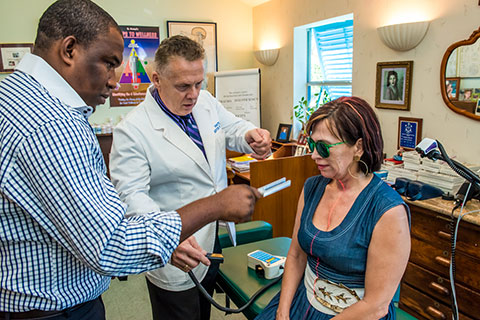 At our clinic we understand that many of your physical problems are either directly or indirectly related to your emotions. We use a variety of methods to help you "clear" negative emotions.
Do you suffer from a phobia that is getting in the way of your daily functions? Do you feel depressed for no reason? Do you suffer from anxiety attacks?
Emotion has been shown by the latest research to be a complex reaction between the body and mind. This results in chemical reactions in the brain and cells, which produces energy made of electrical and magnetic nerve signals. These energies or emotions literally have a frequency, which radiates outward from our energy field.
We will teach you techniques to overcome even the most difficult emotional issues. We use a combination of color therapy, NLP, emotional release therapy and behavior modification techniques to clear negative emotional energy that is affecting your happiness.

Cynthia G
Dr. Usry is caring and giving. He treats his patients like family. The staff is always very welcoming and accommodating. Dr. Usry's method addresses the root of the problem. If he cannot address it or he feels as if you need to seek other solutions, he will tell you. He will also work with other medical practitioners who may be treating you if the opportunity presents itself.

Arion A
I received excellent service from the staff and Dr. Usry. I'll will recommend this doctor to anybody.

Jennifer S
The facility is gorgeous and all of the staff including the doctor were very courteous and made me feel welcome!