Pediatric Chiropractor Expert in Lake Park, FL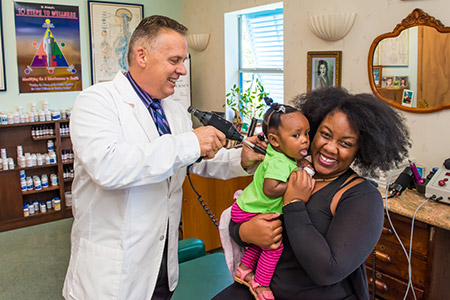 Baby Chiropractor Near Me
Chiropractic pediatriccare for children offers your family a solid foundation for wellness. Whether you're looking to treat a specific issue or prevent problems for your child in the future, All American Wellness Center's pediatric chiropractic program in Lake Park, FL are good places to start.
Growing Need For Pediatric Chiropractors Near Me
More and more parents are seeking pediatric chiropractic care for their children, and Dr. Usry is one of the top Florida infant chiro. Many spinal problems seen in adults can begin as early as birth. Regular chiropractic checkups can identify potential spinal injury from these traumas, allow for corrections early in life, and help children avoid many of the health complaints seen later in adults. At All American Wellness Center, we can check your child's spine for misalignments that could impair nervous system and overall body function. If we see a problem, we'll work with you to develop a plan for treatment and improve your child's life.
Lake Park's Best Infant Chiropractor

Cynthia G
Dr. Usry is caring and giving. He treats his patients like family. The staff is always very welcoming and accommodating. Dr. Usry's method addresses the root of the problem. If he cannot address it or he feels as if you need to seek other solutions, he will tell you. He will also work with other medical practitioners who may be treating you if the opportunity presents itself.

Arion A
I received excellent service from the staff and Dr. Usry. I'll will recommend this doctor to anybody.

Jennifer S
The facility is gorgeous and all of the staff including the doctor were very courteous and made me feel welcome!